Conner, thought about this some after a whole lotta face-palming..
The CV adaptors are the EASIEST thing in the whole process...
2 bolt circles
Now I make them this shape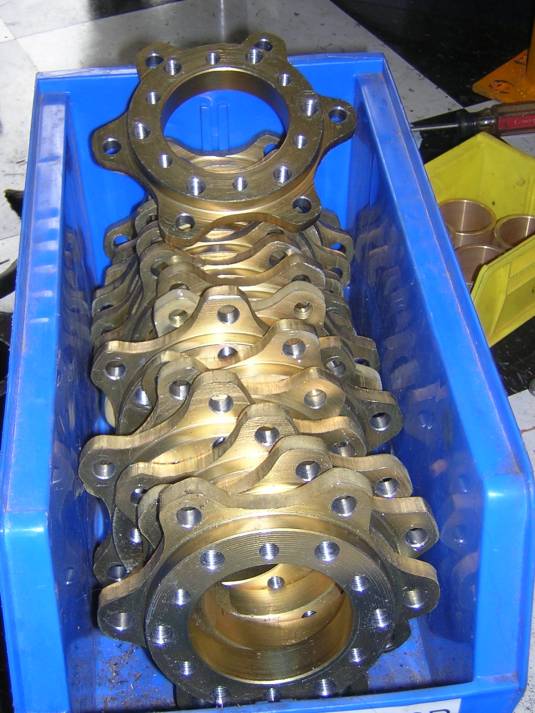 because its easy and for me
in production enviroment
cheap.
If fact those "cookies" are cheaper to do that way----it is a flame cut deal that is cheaper than what some steel suppliers wanted to charge for the saw cutting operation (they quoted $1 per inch or cut PLUS the steel as BAR--ie solid bar) ...
They come as raw parts with the star shaped done and a hole in the middle very close to finished size..
So for me its easy. To cut the step is kinda annoying--its called "an interrupted cut" and is noisy and a bit hard on the tip of the cutting insert but that's OK with the lathe i use.
BUT! Nothing says the adaptors must be star shaped...They can be round, so a quick zip on the od, bore a big hole in the middle if you want, cut the step --making sure there's wrench clearance- and then over to the mill to bang in the bolt circles and tap the CV ones---very very easy..
Now in a learning situation the best way to learn is with good clear accurate criticism...
Somebody saying "DOoooooOOOOD! your schtooopid" doesn't help.
But saying "There's clearly a poor grasp of what skills and requirements in your thinking because---> this is the important bit<-------- you think the easy part is hard and you say
" I'd have to design and make CV adapters, and right now i just don't feel like I have the skill level/resources to do that. "
But they're the EASY part.. ALL the other parts are far far more difficult to get spot on....
Each round of these I've revised the fixtures and jigs and am re-doing the rear mount again...
The CV adaptors are so easy that it shouldn't qualify as a "project"---and that's one reason i suggested choosing some other things above..
Whatever the case, I can send you the CV thangs, and loose parts to do the rest of the diff mount so it looks like a project. (Kinda why I like the star shape: it looks like a part)
You could learn a lot more attacking all those other things and if the point is to learn then its a little different than what the point otherwise is---which is driving a "pretty damn good car down a gravel road well"
Truth is I look at the whole rally thing as primarily a learning exercise...And then again I look at life as a on-going, never ending learning exercise in a general way..
Its just as the situation demands it I say we need to shift from a "wide angle shot" to a zoom in "close up" now on say driving techniques, now on engine build for relaibility, now on engine performance, now on gearbox function, now on whatever it is for the moment---then zoom out back to the general "wide angle shot"---always remembering what the "main point is" and thats driving down a gravel road..
There's a nice little anthropology book which illustrates this idea called
"The Anthropological Lens: Harsh light, Soft focus"
The Anthropological Lens: Harsh Light, Soft Focus, 156 pages, 0521004594,
9780521004596, James L. Peacock
DOWNLOAD
http://bit.ly/1oU3mc3
http://www.alibris.co.uk/booksearch?browse=0&keyword=The+Anthropological+Lens%3A+Harsh+Light%2C+Soft+Focus&mtype=B&hs.x=19&hs.y=26&hs=Submit
Quote

Anthropology is a complex, wide-ranging, and ever-changing field. This clear, coherent, and well-
crafted book is a revised version of a very successful text first published in 1986, designed to
supplement standard textbooks and monographs. It covers the central concepts, distinctive
methodologies, and philosophical as well as practical issues of cultural anthropology, and it is
accessible to the anthropological novice, and of value to the professional. The updated version
covers current issues in cultural anthropology, and includes topics such as globalization, gender,
post-modernism and public issues, and reflects changes in perspective and language.
What's the connection between anthropology and rally car building and driving?
Both are complex and dynamic and changing subjects and a methodology that helps understanding complex concepts and ideas helps period..
What I'm suggesting is that YOUR approach--how you view the complex problem is the central thing..And from my point of view, there's little difference between how we "approch" life, choosing a car, choosing the mods we choose, choosing the value of where we spend our limited money and time, choosing how we try to drive...
In other words school and project you choose are part of a whole. i could go on but I have to pack some parts and then zoom to machine shop with a Xratty block for 1) surfacing the deck and quick hone and a good washing.
---
John Vanlandingham
Sleezattle, WA, USA
Vive le Prole-le-ralliat
www.rallyrace.net/jvab
CALL +1 206 431-9696
Remember! Pacific Standard Time
is 3 hours behind Eastern Standard Time.