Quote
Robert Culbertson
That whole loosing pressure thing might be a bit of an issue that needs to be addressed. As John mentioned, motocross bikes have been using a bladder to separate the oil and gas since the early 80s instead of a sliding separator piston.
I didn't mention that. And that's news that bike stuff use the Soviet era Industrial strength condom.
Everything I worked on up to the mis 1980s --which was Bilsteins from 1976, Öhlins from 1977 thru 1984, WHite Power aka WP -which were originally modded car Bilsteins, inverted 40mm inserts chopped to desired length and the excess was the remote reservoir, Corte e Cosso (internally same as Bistein---we used Bilstein parts at 1 st rebuild) and then seeing works bikesä factory KYBs and Showa , ALL were ordinary DeCarbon design...with floating piston.
Quote

The bladders rarely get a puncture, but it does happen.
The Pro+flex I just sent off last week had one with dead condom...
Quote

They usually leak around the o-ring seal (if they have an aluminum top bonded in), or there can be a tear at the top/opening from the cap to the canister not being installed properly. They can also get holes if someone decides to push a flat-blade screw driver through the bladder or if they are run without a charge for a long time.
Yeah, a lots of ways and importantly, a LOT of area on that big honking thing.
Quote

When you mentioned that the damping went away and the shock started leaking oil, that is a sign that the bladders have lost pressure. When they loose pressure, the oil is not forced through the damping piston as quickly
You were doing so good. The RATE the oil is forced thru the piston is entirely a function of the shape
of the bump and postion of the shock is mounted and the resultant shaft speed...
Example round edge bump and this old school design: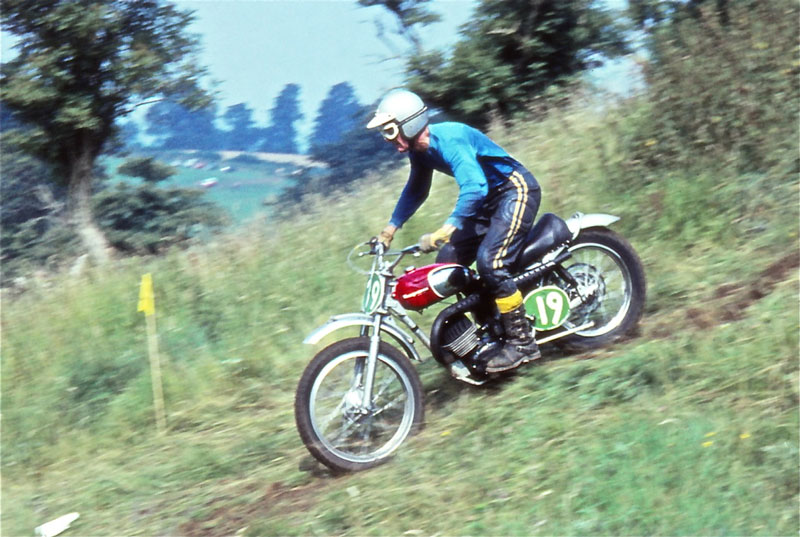 Slow shaft speed, oil is forced thru piston slowly
Example:
Shock in this position, even with square edge bump, shaft speed slower than old position back by axle, oil forced thru piston slower.
Later, mid 80s shaft speed very slow even if axle moves at 15m/s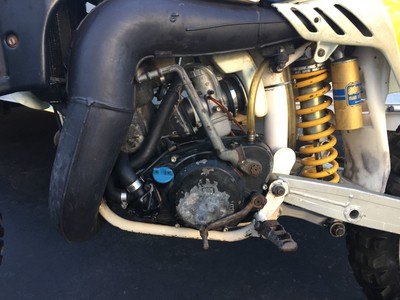 Piston forced thru oil slowly..
It is shape of bump, speed of vehicle, shock geomentry and placement that moves the rod and the piston is on the rod..
Quote

(and aeration usually happens, making everything worse).
Once a quantity of oil is lost, yes.
Quote

Now as far as what to use, I have no idea. More people are switching to really thin oil (0wt or lower) to help with the change in viscocity vs temperature of the shock. Some lighter weight oils also transfer heat faster as well (according to my fancy motorsport engineering friends, seeing a drop in oil temperatures of 30deg with certain fluids is common). So they re-valve for the lighter weight oil and all is better. YMMV.
Interesting. Thinner is recent? In mid 70s the trend began to thinner oils for more consitant damping over the length of heats in serious racing.. There was a lot of leverage on shocks---and it just kept going up. If we valved for a 30 oil, and it heats up...and we would see enough heat to "blue" or "straw" color the shack shafts
Quote

Differentially tempered steel. The various colors produced indicate the temperature to which the steel was heated. Light-straw indicates 204 °C (399 °F) and light blue indicates 337 °C (639 °F).[1][2]
And it lost 50% of its viscosity, then that was like a 15w oil and thats a LOT different than 30..
So we were down in 5W by '76--a0 it wouldn't heat as much and loss of 50% of viscosity is like a 2.5w which is not so far from the 5 we started with..
In winter we'd mix AFT and diesel 50/50 for the forks, and just hope and pray on the back shocks.
---
John Vanlandingham
Sleezattle, WA, USA
Vive le Prole-le-ralliat
www.rallyrace.net/jvab
CALL +1 206 431-9696
Remember! Pacific Standard Time
is 3 hours behind Eastern Standard Time.