Quote
Rolling Blunder
No chip on your shoulder about "winning", that's a great start. For just starting out in grass-o-cross, "a build" is as simple as:

1. Replace your fossilized shocks with whatever is cheap. Keep stock springs (assuming they're not rotted away).

2. Change fluids, spark plugs, filters, pads + rotors (economy OK)... normal maintenance stuff.

3. Buy tires. Good all-seasons, snow tires, rally takeoffs, whatever you can fit and is cheap.

4. Enter events. Drive. Repeat. Repeat more.
Best-est answer evar!!! And from a fawkin Blubaroo driver yet! Who'da thunk it..
Hey Rick, long time Saab guy here---second ride EVER in a Saab was Stockholm to Huskvarna Sweden on 19 September 1974 in a 73 EMS---on back roads cause the cops had just gotten their first ever radar guns and announced on TV that that weekend they'd be patrolling the main N/S round we'd normally take...
Now I was just on the phone with a good guy in Texas who you should hook up with cause if there's any dirt to be sprayed around, he's helping.. Dunham is his name..he's right now bangin diff seals in his Mare-kooooor Xratty that I found for him for cheap.
74 EMS if it runs is maybe the best year 99 because of the nice D-jet management on it which is a MAP senor based system and is more fiddle-able easier than the next year to the end "K-jet" or "CIS" stuff..
How familiar are you with 99s? No point in me telling all sorts of shit you might know already, right?
Every particular car dies in mostly the same way and I've gotten more free 99s for really simple things that "can't be fixed" that I ever wanted....Hell my first saab and first car engine I ever built was a D-jet 99 way back in 1978..born 1709cc (the English engine that Saab and Triumph split the design and development costs on) but was like 1945cc when done..
So one big thing to look at is the hose from tank to fuel pump and fuel pump to the front..It passes thru the real wheel arch on driver's side and is always baked with dirt and shit so you can not see when they get all dry rotted and full of microscopic cracks so the poor innocent fuel pump sucking hard will gladly suck air...15-18" of 1/2" hose--if I recall correctly and boom you've solved that..Got 2 freebie 99s with that one problem...
How about the trigger points in the dizzy down below the normal points? NOBODY EVER lubes the points cam so the rubbing block wears and no open points= no injector wants to fire..
Shocks...99 fronts are still available from Bilstein.. they'll do fine
99 rears you don't want..They are a pin mount both TOP and BOTTOM so the lowest thing in the car is that measly M10 x 1 pin hanging down below the rear lower spring seat..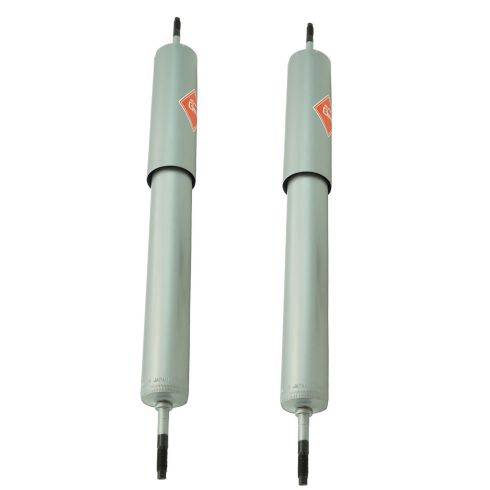 Find a photo or sample of a 900 lower spring pan and you'll see Saab just drilled thru the side and used a long bolt and a lower eyelet.. Like this:
Here's the rear lower spring pans, lousy photo but better than anybody else has posted so fawk 'em if they can't take a joke.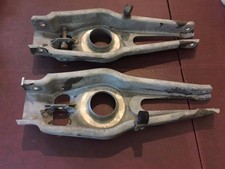 Here's 2 for $65
https://www.ebay.com/itm/Saab-c900-Classic-900-Spring-Links-2/201913239337?epid=1622171107&hash=item2f02f78729:g:qNcAAOSwDNdVpwaT
In the front 99s had a nasty habit of breaking off the lower shock mount...Find some 900 lower A arms and weld things up..direct interchange..
Yoiu WILL absolutely want to invent something better for the front motor mount than the junk Saab supplied..(in before fucking hockey pucks..fuck that shit was and is bullshit) I can draw you up what Saab themselves did,,simple stuff but it will require welding.. That was a chronic failure on street driven Saabs (had to fix that on this cutie-pie girl from Texas Beth who was up here and drive like a maniac doing jumps off of when the streets go downhill and level out WHOOOOOOSH! Wham! Oh I had the hots for her but she was being to bashful...)
If you don't it eventually tears up the sheet metal where the mount is and now you have a repair AND a fix to do>>
And the way the shifter is bolted to the floor, if the motor moves in relation to the stick--and they leap around--is the same as moving the shifter--and the fuckers jump outta gear..
What else..ask questions, don't be shy..There's some real winners here so watch out...
Whaddya have for wheels? (I need to get rid of some 99 wheels) the ordinary EMS wheels are the hot shit, nearly indestructible even when you chuck 'em up in a lathe and carve off 5 lbs.. Only thing better is Minilites and you ain't getting any of mine. So solly Loundeye!
OK gotta go fold clothes now..
Write more.
---
John Vanlandingham
Sleezattle, WA, USA
Vive le Prole-le-ralliat
www.rallyrace.net/jvab
CALL +1 206 431-9696
Remember! Pacific Standard Time
is 3 hours behind Eastern Standard Time.