How did I miss this thread? Time to whore me and my car!
From 2013 - the finals of the Danish Championship - our first time at a national event. Utter catastrophe in terms of the actual result, but given the circumstances we were stoked.
Started out by blowing up a tire on SS1 due to a rear brake locking up. Managed a quick fix repair just in time, limped through SS2, and then we had dropped far down.
Put the car together at service, and put it into parc ferme for the night, to continue the next day. Here we developed serious transmission and clutch problems, which haunted us the rest of the day. But we finished! In our debut national event - that was great!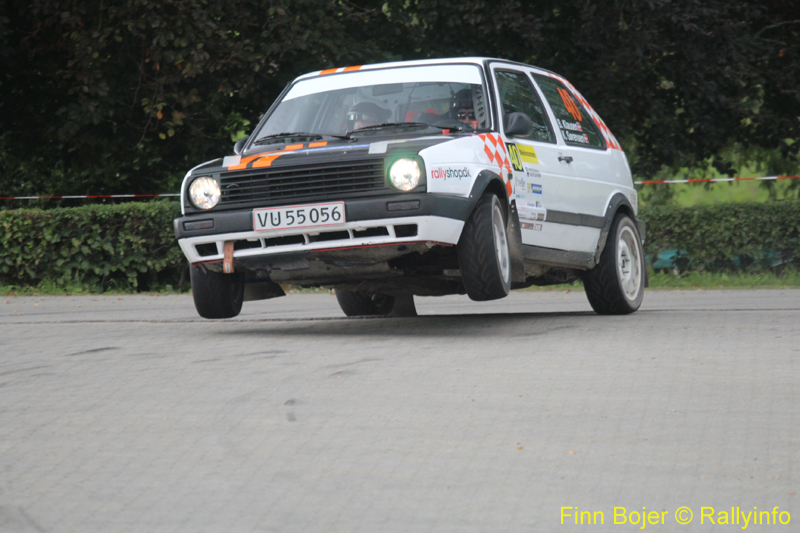 One of my favorite pictures of all times: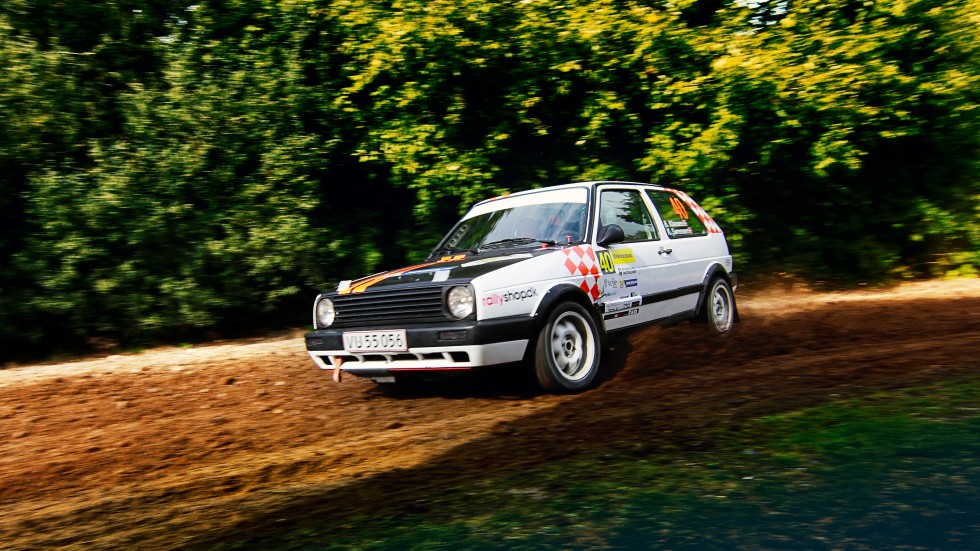 That was our last event of 2013, so we get into 2014, where we started a bit late. I had a transmission to fix, and that took a fair while. But before I could do that, I had to redo the entire ceiling in my garage. That was delayed quite a bit by my mom being hospitalized for 3 months straight, due to cancer (which she recovered from - again - despite having Parkinsons disease as well - I totally love my genes... not...).
So, we did a few events over the summer - one did cost me an engine - no fun. But the next picture is from a "mini rally" (short one-day event we have in Denmark) in the late summer.
Everything went like clockwork at this event. I can't be bothered to check the standings, but it was a good event!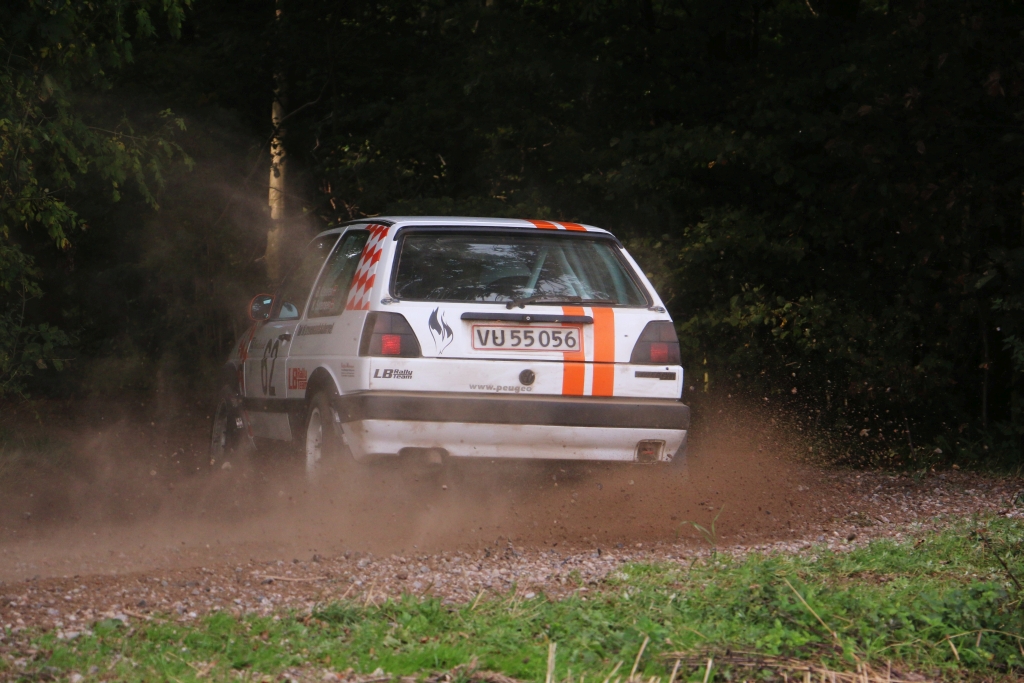 Then we participated in a sprint - that blew immensely. We managed two heats. The first the car handled like utter s**t - I had completely misjuged the tire pressure.
Second heat it went pretty well - until the CV-joint stub axle on the left came loose, and totally destroyed the wheel bearing and the hub. DNF - hrumpf...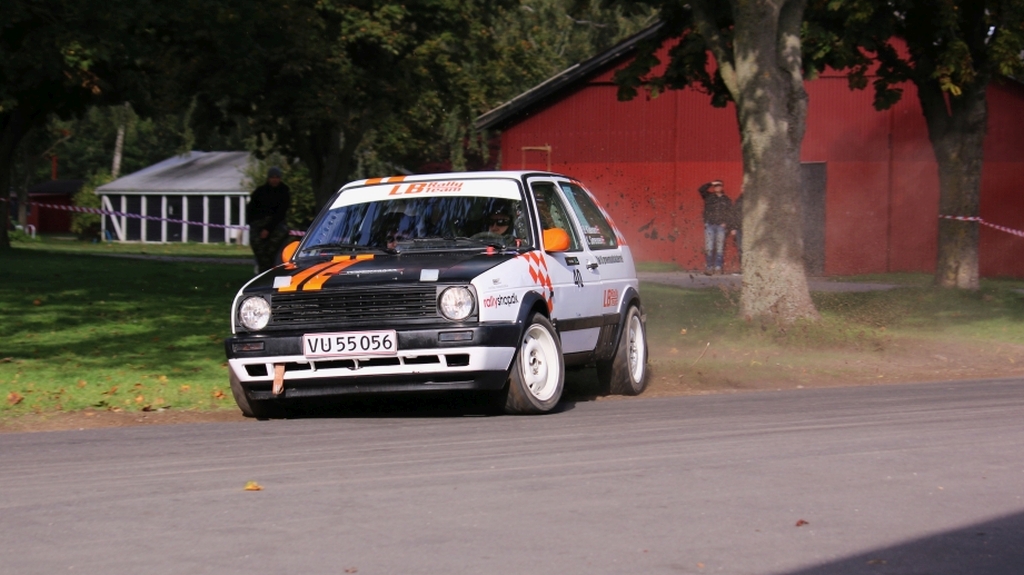 A bit of video from the out side, from when it was still going. We first appear @ 7-or-so minutes:
Then we participated in another mini rally. This went ok-ish. I was totally busted from lack of sleep for days, tracing a cut-out problem due to a faulty sensor. Had to get up pretty early, went for recce, etc., then a pretty long wait since our class is at the end of the pack. When we finally came to the start of SS1, a team had gone of pretty severely, and the stage was paused for more than 30 minutes. Just what I did NOT need - I had serious problems with getting into the groove to begin with, and now a 30 minute wait - I never really got started, and SS1 had several small cock ups - but nothing fatal.
The video is from SS2. At 0:52-ish we have an "Uhuhhhh"-moment going across a crest.
The skid marks that can be seen is from a guy in our class, that went a bit too fast and spun exactly 180 degrees, ending up going 70-ish mph backwards. Somehow they stayed on the road, got the car turned around and continued to go on an win the class.
The last event of the year was the finals of the Danish National Championship.
We were late for the starte of recce, so we had to skip SS3. SS1 to 5 were night stages, so obviously pace notes were important. SS3 was a sprint like stage, and we had a sketch of the area, so we figured we'd do notes from the sketch as best we could, wing it for the first lap, and then take it from there.
It turned out ok-ish - but boy was it dark. Just starting out on lap 2 we got overtaken, and I decided just to "hook on" to him - that worked well - pace was much better for the remaining 3 laps

.
Other than that, the event went pretty good - 24th OA in the absolutely cheapest car of the event. No service crew - just me and my navi - and no service van - just the stationwagon I have for a DD. It can be done

.
Video is from one of the later stages (17 out of 21 in total) that has a bit of gravel in it.
---
Brgrds
Brian