Quote
wildert
.........
It was a fairly decent box for the budget, but having to open it up, I wanted an upgrade while I was in there.
First of all the 4.64 meant that 1st was just about useless and second, the 16V was becoming a bit cammy, so the ~2900 rpm drop from 1st to 2nd, and the ~2400 rpm ditto from 2nd to 3rd, was not too funny. Obviously the drops in the higher gears are not really all that good either, but still better since that is how it goes.
Third, the topspeed @7500 rpm in 5th was something like 195 kph (just under 120 mph or so) - much too high for what we need. Even the S2000's do around 170 kph on their tall gearing with almost double the power we have.
I looked into different gearsets, but for 020's you'll mainly see 6 speed sets which I couldn't use due to class rules, and/or dog-based sets which I didn't want due to price of parts, maintenance, etc. Also: it was honestly a bit too much mony for me

.
For 02A's you get much more to chose from, but since I am on 020 now, I would need a new donor box + a new diff + the gearset. That would be even more expensive, though a real good solution both in the future and now (one of the guys from my club has one from SQS - awesome...).
I did manage to come by MTS Motorsport (www.mts-motorsport.com - NOT .de) in Germany. They produce a range of different solutions for 020, 02A, 02J and other brands. For 020 they do new 3rd, 4th and 5th in a range of ratios - and this became interesting.
With the use of a 3,92 FD from a diesel box (that you can actually buy from MTS as well), that has the tall 1st same as the GTI "CR"-boxes (close ratio - yeah right), and the tall 2nd from those as well, and carefully choosing 3rd, 4th and 5th from their range, I was able to come up with a transmission that has ratios very close to MTS' own dog set, and SQS' synchro set for 02A. Only difference in ratio is that 1st is low for a motorsport box, but it is still taller than 1st in my old 4.64 FD box, so still an improvement for me.
I still have the 2900 rpm drop from 1st to 2nd obviously, but from there the numbers are: 1557, 1473 and 1000.
I made a chart to compare (it assumes 7500 rpm redline and it is in kph).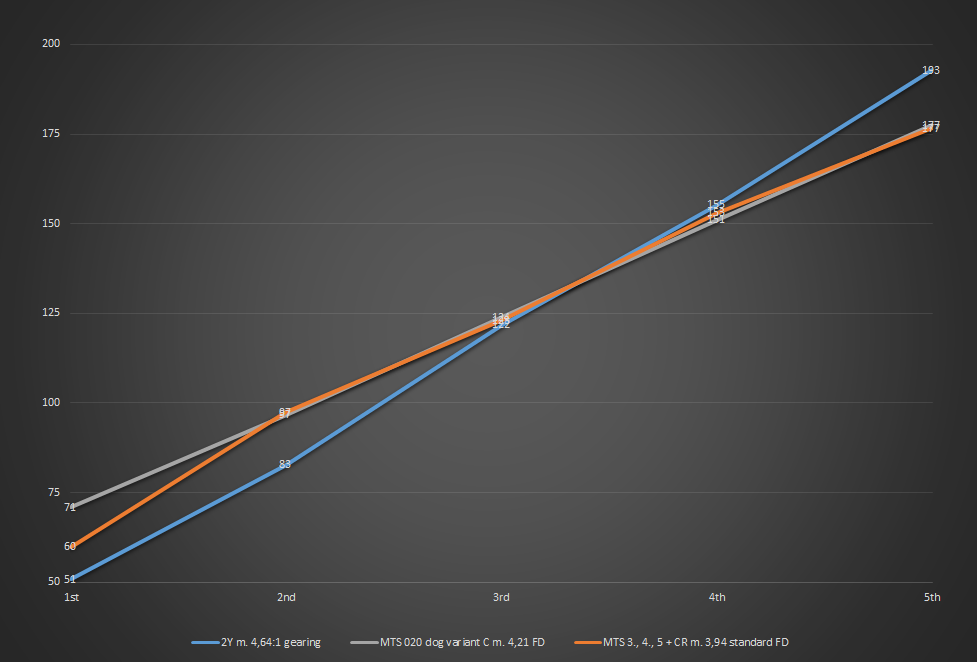 The replacement gears are wider, and with bigger "teeth", so an improvement in strength as well, though obviously not in 1st and 2nd.
Obviously there is always something better out there, but it gave me ratios close-to-true motorsport CR gear set, for around a third of the price (the replacement gears - on an exchange-for-stock-basis are 350€ a piece).
Obviously there are other benefits to the real deal, but since I haven't had issues with the 020 holding up to the power, I consider it a good compromise.