This come from late January to late February this year, interrupted by two stage rallies, and a weekend of rally training. Things start to be assembled and she starts to look more like a car!
I went to prepare the dizzy with a new cap and rotor, and when I got the cap off, the two rotors were different. I grabbed the dizzy from the motor that came out, and it had the matching small rotor. Subsequently the bolt broke off of the original dizzy. After some discussion here:
(link to thread about dizzy swap)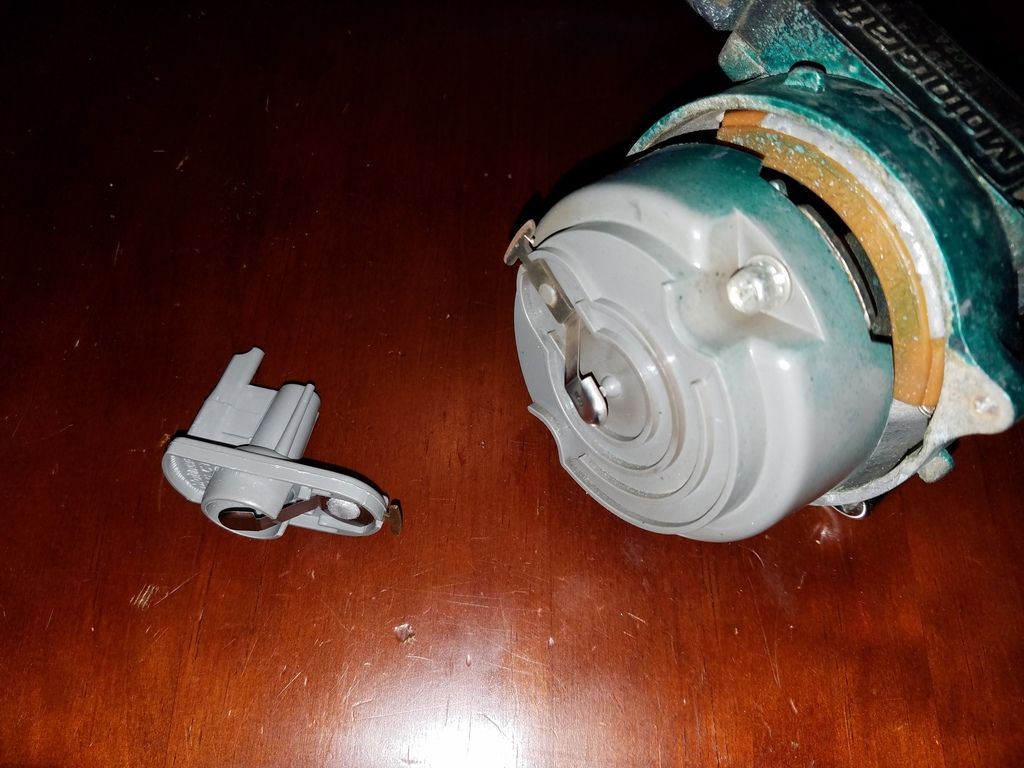 I swapped TFI bolts (5.5 mm deep socket got them out) with allen head screws. (photo?)
I had originally intended to use the inline intake because of the bolt locations in the head (The car now has an older SVO head which does not have the second hole for the square intake). Im not going to be running anywhere near 20 psi (at least not for a while). So to get started with a complete intake, I pulled the throttle body off of the inline and attached it to the square intake.
Ready to mount to square upper.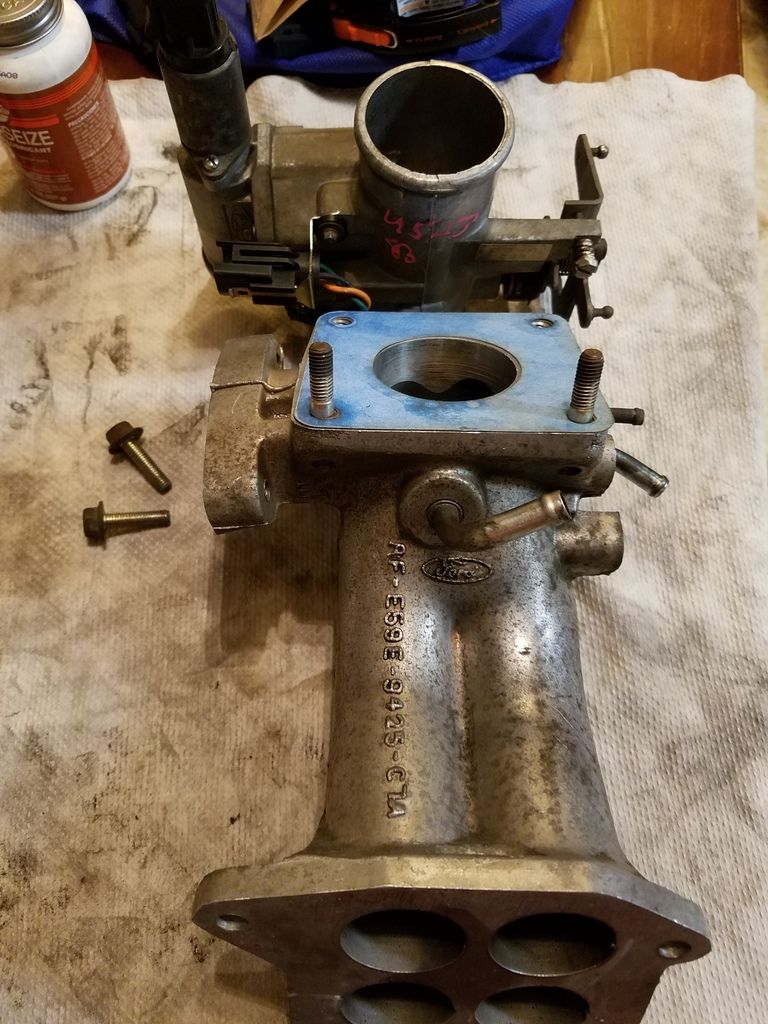 TB was then fully mounted (with anti-sieze on the bolts) to the square upper and set aside until it was needed for assembly.
On a recommendation from Jeff at Merkur Midwest, to complete my EGR delete, I tapped a nickel into the hole and left the EGR valve off of the upper intake.
After a trip to MPM, in which I picked up a bunch of parts including cooling system parts I moved on to assembling and making sure I had a complete cooling system. From the Hardline around the back, I attached small coolant line for lower intake outlet.
The lower intake was plugged up, previous owner had just capped it off and it had filled up with crap, so I cleaned it out. (lots of scrubbing!)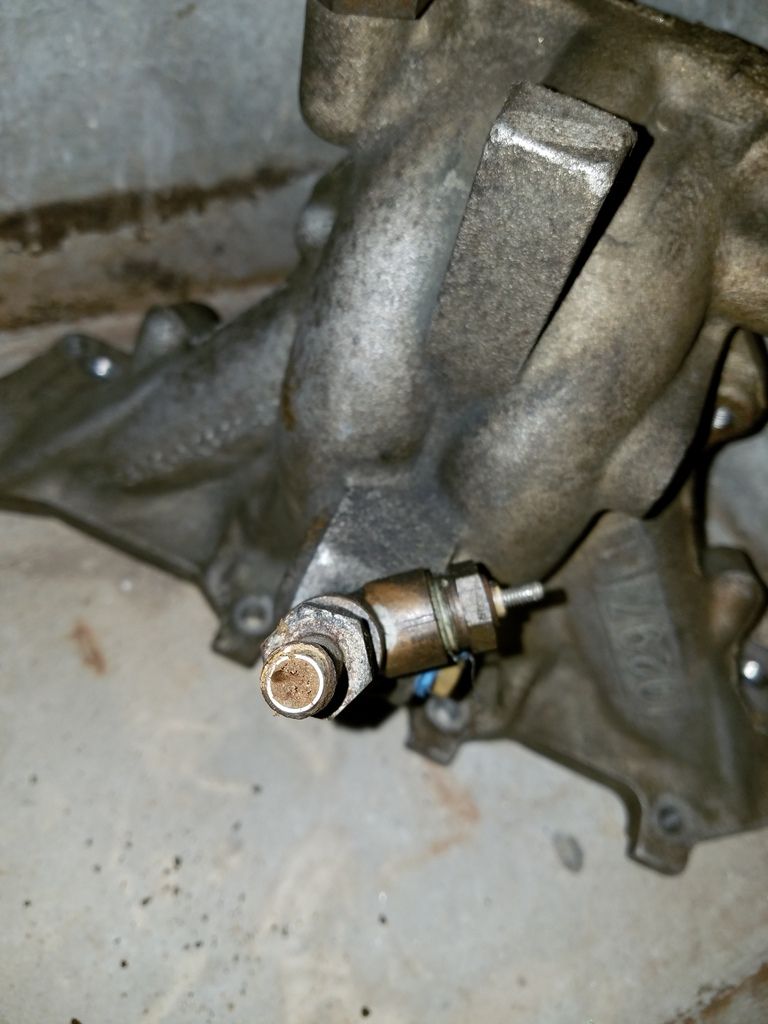 Once the lower intake was clean, I grabbed the fuel rail and the newly-cleaned injectors and test-fit them with the lower intake on the bench. I made sure to coat o-rings with a touch of oil before pressing on, then it went outside to the car.
Then the lower intake was attached to the head with a new fel-pro gasket (still just pulling gaskets from the Fel-pro kit I purchased at the beginning). With some conversation with a few Turbo-ford folks, leaving out the single bolt in the front *shouldnt* be too much of an issue on a stock, unported intake. Small coolant line was then connected to the lower intake underneath, then the fuel rail was then attached to the lower intake, along with the ECT sensor and the injector harness.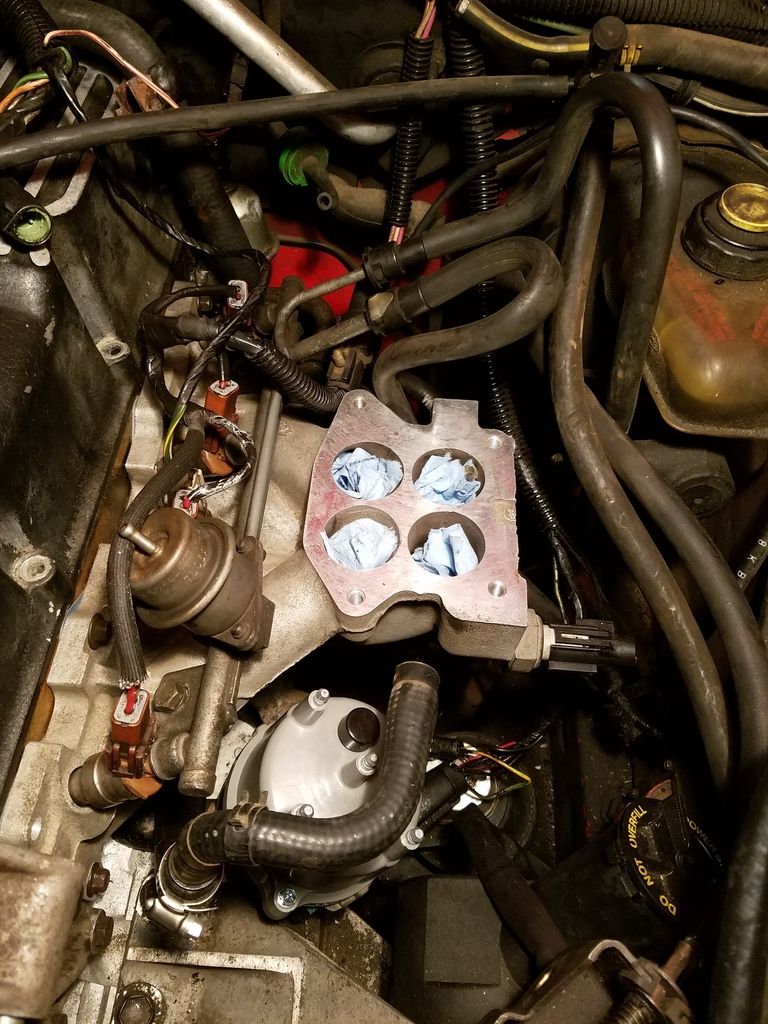 More updates coming as I gather photos and look in the journal... progress progress.
Edited 1 time(s). Last edit at 06/21/2017 05:31PM by dunhamr1.