Quote
SideburnsSteve
Thanks again guys for the respones. All very good info!! I knew you meant 253 John hahaah
.
Oh, thank Gawd..What a relief! I can put away the tatami mat and the tanto away.
Quote
SideburnsSteve
Is anyone using mk4's? or are they just not good enough? I saw the guy building the rally cross mk4 golf. bah! need beer
Sure, lotsa people have..In late 90s VW motorsport subbed out work to SBD in Daventry in the very lower edge of the Midlands and they ran them in British rally Champignonskit...
Despite the ROAD CAR versions being significantly porkier than MkII and MkIII, the rally car versions were fine..
I have great sympathy about the lack of mkII and III cars, they're rarer than hell here..One thing is the simply didn't sell loadsa the buggers...
Two things that I would without fail do ifn I wuz gonna fawk with one:
a) I'd make sure i could use the Corrado or whatever big bearing , separate caliper style front knuckle rather than the MK4 socket and pinch style....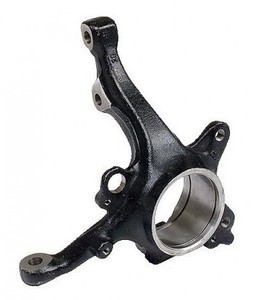 rather than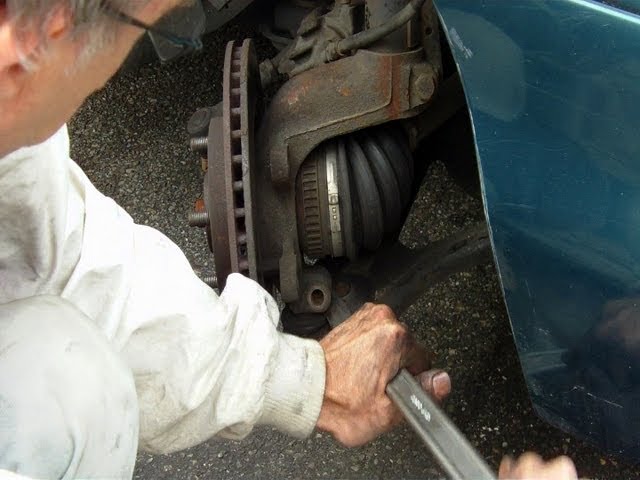 2 reasons: 1)the distance from face where the wheel hits the disc to strut centerline is fixed and stock it is so close that VW puts a little flat dent in the side of the lower tube right where the rimof the wheel is.. That's nuts close...With the "normal" knuckle we have no wheel to strut contact worries.
2) in order to install the strut, the top of the knuckle must be below the very bottom of the strut and at least on some other cars that have the same Poke-in-and-pinch mounting style that I have actual in-depth experience (ripping hair out in huge piles)
Ford:
getting the whole knuckle down low enough is a bear and you begin to think about reducing overall strut length and shortening travel..
With Corrado knuckles and convention "ear" type mounting we can get the 200mm tront travel and installing is normal.
Second: MkI, II, and III Vw was kind enough to supply nice rear towers
The OEM rear shock is a coiloover..Makes using coilovers a snap..Make using my favorite 50mm Bilstein with 236mm shaft travel a snap--and as there are MANY progressive foward thinking guys out there in Focus, Xratty, 240 Volvos, AE86s and above all millions of Golf guys already using that shock, there is an increased chance you can scrounge on in a pinch
Mk4 the filthy bastids eliminated the tower, used a skinny ass little 33mm OD shock and set it VERT CLOSE

to the inner wheelhousing wall...and the spring was a short little POS crammed between the subframe and the lower arm where swapping of setting height---a snap in a MkI, II, or III--is a plague of biblical proportions.. More time, more money to find the right spring..
However.
Simple solution:
You (or somebody) has a derelict MkII or 3...simple drill out the spot welds and then "cut-n-shut".. You cut a hole, and you shut the hole.
See "Project Binky" for motivation
(yeah it'll cost a few cups of tea but do it once--a semi-skilled job---and life is good forever after)
There. those are the only 2 consederations...
---
John Vanlandingham
Sleezattle, WA, USA
Vive le Prole-le-ralliat
www.rallyrace.net/jvab
CALL +1 206 431-9696
Remember! Pacific Standard Time
is 3 hours behind Eastern Standard Time.