Quote
jodo257
So I spoke with one of my engineering professors. A tandem master cylinder with a single bore and no springs will develop the same pressure in each circuit (which will be the force applied divided by bore area - not half the force.)

A double master cylinder cylinder setup will halve the force going to each piston so you'll want to halve the bore area to get equivalent pressure.

Hopefully I'm not missing something.
Your professor is Right..
Just think of a real world example--Plenty of cars followed the lead of safety pioneers Mercedes and Saab and Volvo and introduced "dual diagonal" systems with one circuit LF and RR and the other circuit RF and LR..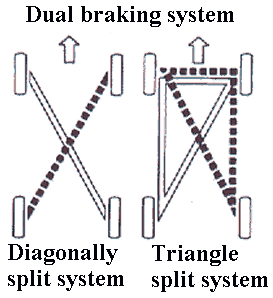 On the nicests of those cars, the lightest and the ones with the best brakes the master cylinder is tandem, Lockheed to 71 and ATE thereafter.
Same bore the whole way..
IF there was some devine intervention and The Gods somehow created less pressure at the master on one outlet vs the other, then how could the car brake straight?
Same sized 2" pistons on front and 5/8" or 3/4" on rears..Cars brake straight with same size stuff at the wheels---then the pressure at the ports of the master is same..
More un-sound thinking from a troubled mind.
Now Pete, if you ditch the booster--which boosts PEDAL effort what? 2 to 3.5 times IF you loose assist there, they you better get some assist somewhere...
The pistons sized you mentioned sound small..
Give you an idea..240 Volvo have 4 x 1.5" pistons front, 2 x 1.5" per caliper back..a delightful size on cars around 2050--2300lbs...That worked,,,but using the lurv-erly Sumitomo RX7 4 piston things without a booster didn't work.. and they 4 x 36mm..turns out that's nearly 19% reduction..
You're to hafta make up boost assist, That means larger pistons at master and wheel cylinders.
---
John Vanlandingham
Sleezattle, WA, USA
Vive le Prole-le-ralliat
www.rallyrace.net/jvab
CALL +1 206 431-9696
Remember! Pacific Standard Time
is 3 hours behind Eastern Standard Time.