Quote
hoche
i dunno too much about Mk4s. The only one I've ever raced (a Jetta) was a foul-handling pig. That was probably because the suspension wasn't set up right though.

For rally, I'd cut off those stupid barrel-spring perches and the stock skinny rear towers and put in a custom rear tower with room for a real coilover.

Dunno about the front.
I do, its a bitch. They went to more or less the same thing that is on the nice Xrattys, Sierras, Escort Cosworths etc. Strut body pokes into the knuckle and it pinched...like this:

Here's Ford Sierra 4x4 stuff---same idea--same diameter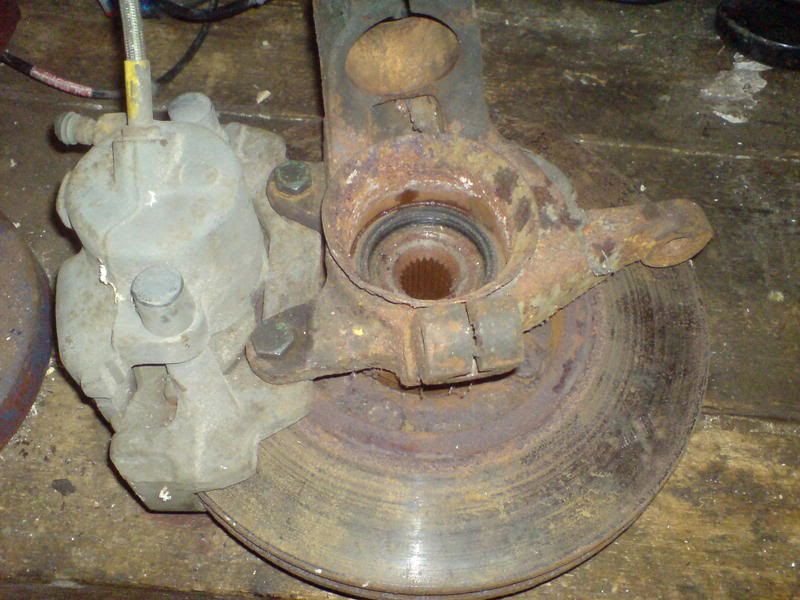 Nothing wrong as an OEM design, just makes it pickier when going to longer coilover springs..
It seems the Nemenski continue with "brilliant" engineering ideas and on an annoying number of things from der Busndesrepublik is see a little area in the strut dody that is flat---right about where the heel/tire is---I guess clearance is tight---!!!! This means wheel chice must be done carefully-
--OR some tactical backdating to the conventional "ear" type struts..
In the rear, absolutely there needs to be a buldge in the inner arch to clear coilovers...
New Beetle is this same stuff, and I just did a set of gravel suspenders for one of dems.
At least they finally got rid of the bicycle sized bearings on the rear spindle...
---
John Vanlandingham
Sleezattle, WA, USA
Vive le Prole-le-ralliat
www.rallyrace.net/jvab
CALL +1 206 431-9696
Remember! Pacific Standard Time
is 3 hours behind Eastern Standard Time.