Well the madness is spreading I see.

OK first thing. The beauty of the Volvo and Xratty is both are plenty of fun with easy, cheap mods...But mods means no Production class..
You haven't told us anything about who you are , what you've done in the past of anything and I never assume people don't have any direct or transferable experience.
HOWEVER! P class is not a good idea...It really is a class for people who cna wrangle a deal from some OEM or importer so that regardless of results overall, there's a chance to make some shameless ads if the car wins it's class, and often with 1 or maybe 2 entrants in the class (traditionally) they get their ad copy..
For the privateer, there's no advantage to the class and lots of drawbacks...
And inevitably every P guy, and the old PGT, statrt stretching the rules and for the longest time every car was a cheater...No it has come to pass that Federartions simply give up because policing all the cheating and dealing with the whiners doing the cheating is such a pain so they've said fukkit, let them do whatever..
Most people that have been around a while say the class ought to be axed..
The whole point is to have as much fun as possible and to test yourself (in rally against the clock and the terrian) and compare how you did to other guys tsting themselves..
So really if you do an event say in 2h10m25s and that is 1st P in a 1 car class OR its 5th in Group 2, it is in the end no difference: its what you did..
The difference is in Group2 (or Group5 ) you can as you get some time in the car and your pocketbook recovers from the initial plundering for cage/seats/harnesses/romper suits/helmet/lights/odo/sumpguard and suspension and all the "Stage Zero" stuff like hoses and bushes, and brakes, THEN you can begin adding the fun bits that makes the nice 2300 RWD cars so nice, like alternate final drive ratio so there some nice fun acceleration, and Gearbox with something with better ratios and stronger when the poor little 5 speed pukes up---which it will do..
And you could whip the head off and mill 1,5-1,6mm to get some bang out of it, again so it pulls
(Everything is fine in lower gears, but from say 85 km/hr up to say 160 acelleration in a stocker in not so hot...and there's mostly 80 to 160+ stuff up there, and some uphills, so we want the car to work best in that range)
Hang on, maybe you haven't seen this old stuff from way back in 1992 or 93.
It's a comaprison tween a stock road car, a VOC (Volvo Original Cup) car with pick and choose of all the best ORIGINAL parts and then a typical early 90s club level car with a nice built motor, right gearset and final drive. Lookat the times particularly the TIME from 100 km to whatever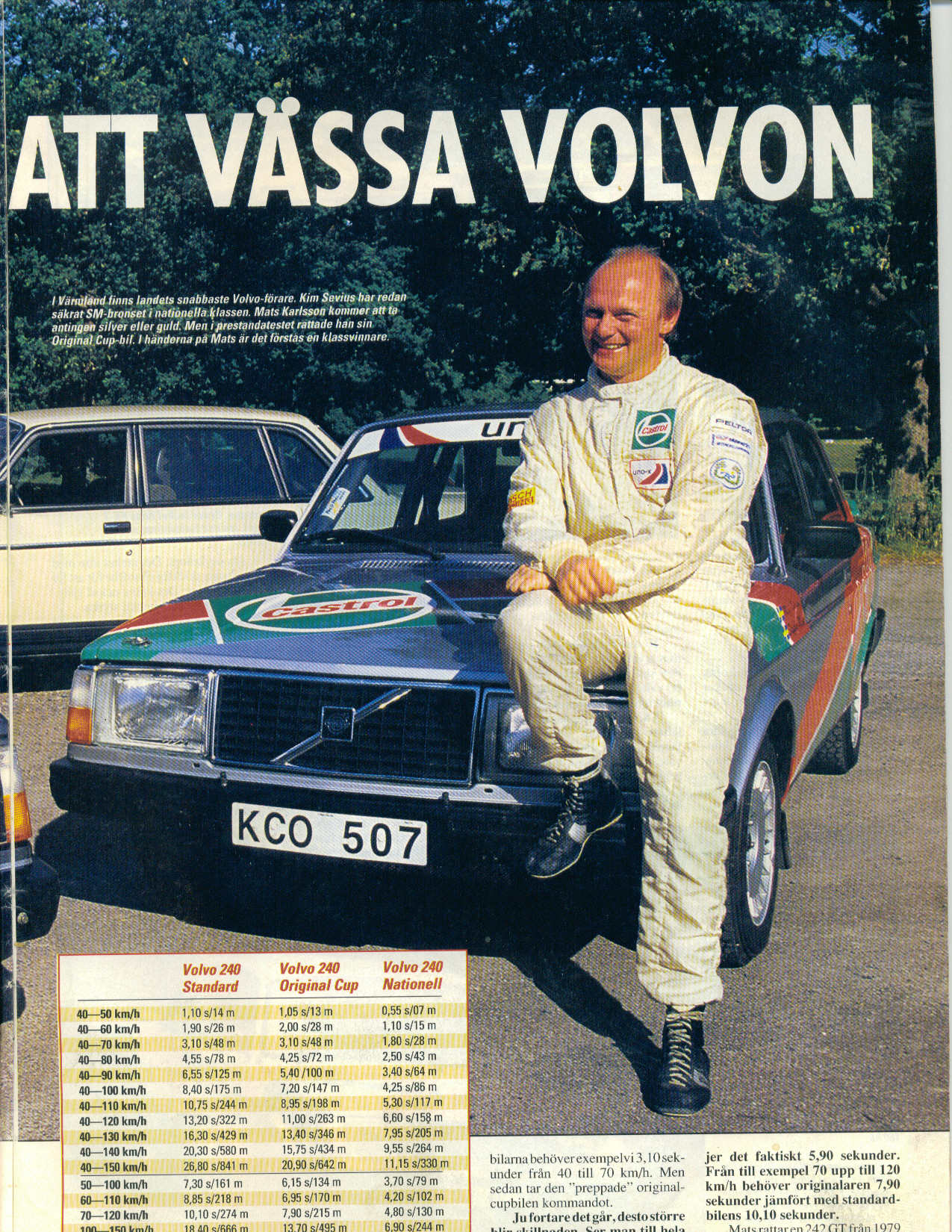 The title of the article is "Its rewarding to "Sharpen" the Volvo"
It's a wonderfully balanced car, but its kinda large and has a bit of weight.
You want to be in a class where you can, progressively, over time as you get going, warm the thing up.
OK?
So, we know what to do to make the cars go--probaly for less than any other car---what about you?
What have you done prior to getting this disease? Ski? Bikes? cars?
Do you know Kevin Zidkovitch up in the Edmonton area? Seen his 240 he's beavering away on?
---
John Vanlandingham
Sleezattle, WA, USA
Vive le Prole-le-ralliat
www.rallyrace.net/jvab
CALL +1 206 431-9696
Remember! Pacific Standard Time
is 3 hours behind Eastern Standard Time.