Hello,
First, let me say that this will be built on a tight budget with smart thinking out weighing money spending.
Second, this may take some time. Yes deadlines are nice and I would love to be out on stage in 2016. That said, I have 14 month old twins (boy and girl) and I work a lot. Yes, I do stay up all hours trying to make progress but sometime I just plain old can't. My time isn't always my time
The stuff you may actually care about:
I'm building a E36 compact or 318ti as they are often referred to state side. The car had a destroyed motor so picked up a 328i for a bargain and pulled the drive train and other useful spares (extra suspension, steering rack, better brakes).
I have started on the cage and have the main hoop and half laterals completed. Now it's a matter of connecting the dots... a lot of dots. That said, before I do I want to post some build pictures and let them be discussed. It would be much easier to make adjustments now then after everything is welded into place. I've looked through Dave's build and many other from around the world and think I have a good idea of the best way to build this car but I'm sure there is many things I haven't considered.
Here is the basic plan outlined:
-M52 2.8 (iron block) Maybe switch to aluminum when this one dies. I'm not concerned in the least about power...I planned on using a four cylinder but they are less common stateside and hence more expensive.
-Standard gearbox with a 4:10 or 3:73 188mm LSD (first gear will be for loading the car on a trailer only).
-Bilstein suspension (figuring the Sierras and Grp. A escorts had similar weights and suspension geometry).
-Extended rear shock mount to mount standard 10" travel damper (may have to shorten damper stroke sightly).
-328i vented discs and boosterless hydraulic system using modified standard pedals with a bias bar.
-The rest is basic rally car prep.
Here are some pictures: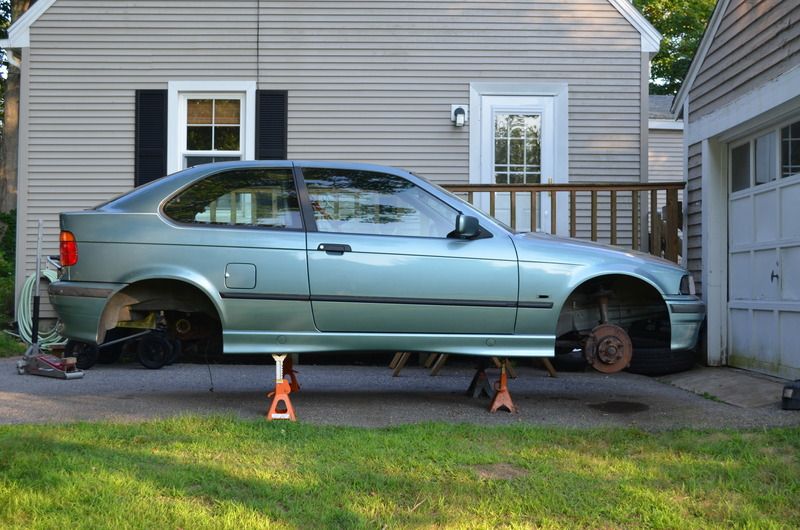 Black outline where the 1/8" footing will be.
Diff/subframe mount that the cage will pick up on.
I sketched in red the door, sill, and dash bar planned locations.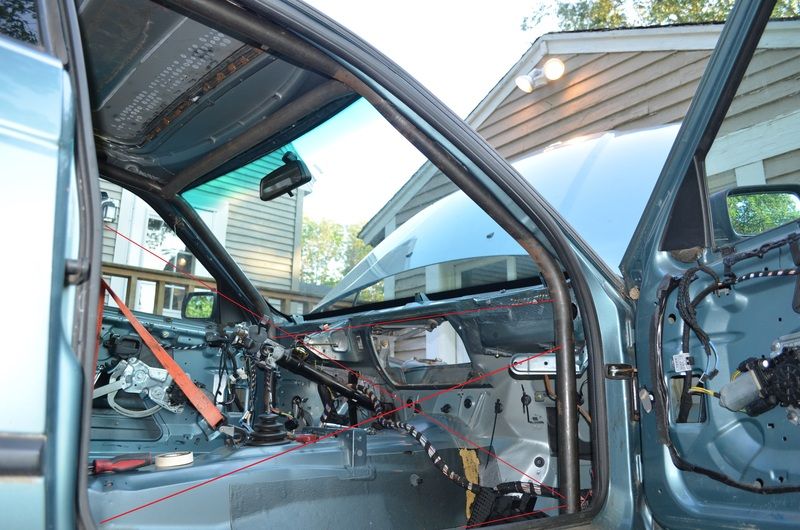 Again some more sketching of door, sill, dash, roof, harness, A pillar, and front strut bars.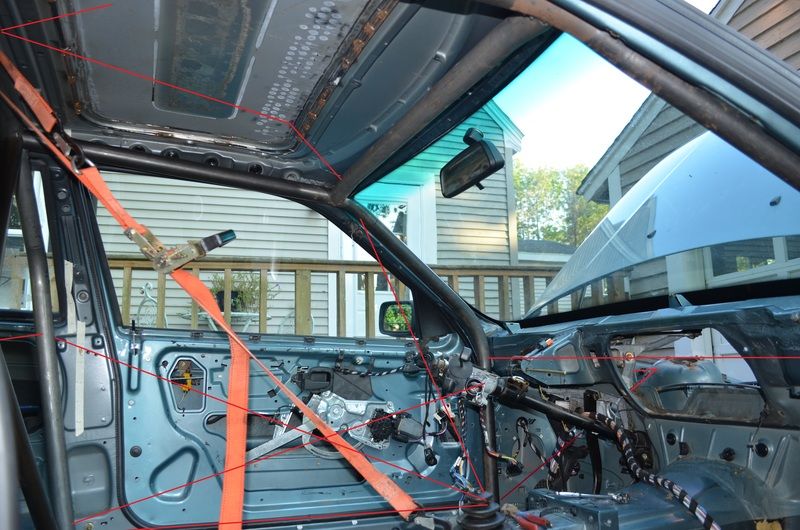 This one may be a bit confusing but it shows the whole cage layout as I see it in my head.
Now... experienced rallyist and scrutineers please let me know what you think.
I will hopefully have the rear turrets designed and fabricated soon and be able to start connecting the cage to them.