Quote
camdenthrasher


When you say a "proper" strut top, are you meaning something that's just non adjustable? Of course thats possible, however in any case I still need to correct for the pretty serious positive camber caused when raising the vehicle up about 1.5". I don't have the suspension completely built at the moment, so I'm sure exactly the amount of camber I need to correct for and thus the adjustability of the camber plates was attractive? Or did you have another reason for suggesting this? Im no expert in this field and half the reason for this project was for me to learn so I'd be curious as to your reasoning.

My fabrication capability has been greatly reduced at my current residence (basically none) so for the time being anything I want to have built is going to have to get outsourced and paid for. I figured some simple lathe work would be less cost to me than someone designing and building a full new strut top mount. Maybe I'm wrong about that

A COM-12 bearing would fit this shock stem (At least that's what Bilstein told me after I realized this mistake) but checking the outer dimensions of that spec, I couldn't fit that into the existing camber plates I have, it's just too large.
The "industry standard"---what I have seen on works cars overseas...for the top bearing is a 22mm ID bearing
22mm is .866"...,
Its always a "high misalignment bearing" looks like this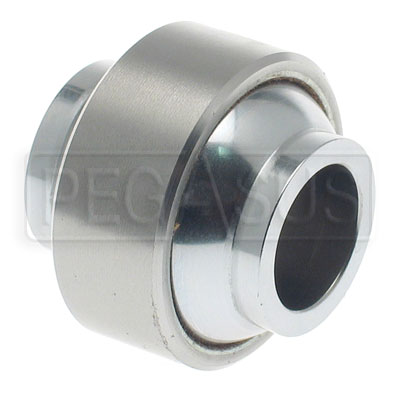 If we just look at Pegasus for a 7/8"---which is .875" or one red cunt hair bigger, the cost is
Quote

3072-14G

Condition: New

High Misalignment Spherical Brg, 7/8 x 1.75, Grumman Groove

1 to 3: $119.99

4 & up: $110.59

Not In Stock

notify me when available
They way others do it is a upper pin--and upper spring seat to match--a straight 20mm pin yay long and threaded--at top like the fat one on the left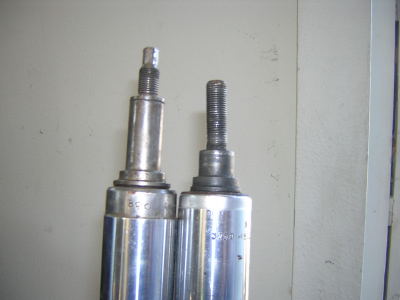 What I do is make a sleeve with a shoulder that is 20mm ID and .875" OD..so when the sleeve is in place, you have the shoulder just like in the piccie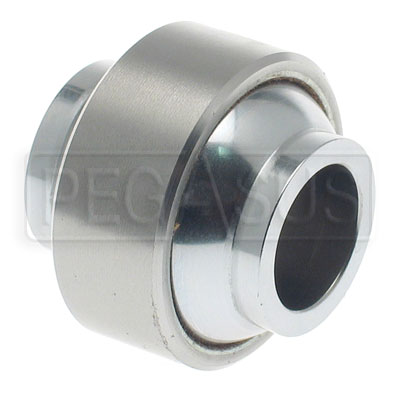 But costing around $100 less per bearing...
That is how to save money and go racing..
Undersized bearings wear out in no time plat..They are penny-wise and pound foolish.
Now let me ask: what travel and damping to you get?
What springs are you thinking...this is for a 2002 thing--with round taillights i assume.
What are you planning in the rear to balance this front?
The final thing, have you gotten any firm prices on machining the tops yet?
---
John Vanlandingham
Sleezattle, WA, USA
Vive le Prole-le-ralliat
www.rallyrace.net/jvab
CALL +1 206 431-9696
Remember! Pacific Standard Time
is 3 hours behind Eastern Standard Time.