Almost anyone who has rallied a mk2 VW has found themselves short a wheel at one point or another. I know it's happened to me three times, twice to Fiorelli, and who can forget the infamous Prescott 2010 where Van Brocklin didn't let the lack of a rear wheel stop him from a class win on a 20 mile stage…
The rear stub axles shared by mk1, mk2, and 4-lug mk3 VW's are prone to two different types of failures. The first type is an overload failure caused by hitting something. In my experience it doesn't have to be anything too solid - just going sideways into a berm can make your stub axle bend like this (classic plastic deformation caused by overload):
When that happens, the bearings fail and eventually the wheel falls off after you drive some distance down the road thinking you got away with it…
The second and more worrisome type of failure is caused by fatigue. You can generally avoid bending the stub axle by keeping it on the road, but unfortunately that's no guarantee the wheel will stay attached to the car. Here's a stub axle from my car that failed without me hitting anything:
You can see the fracture is perpendicular to the surface at the root of where the material necks down for the outer bearing. There's no deformation at all that you would expect to see in an overload failure. Examination of the fracture shows beach marks consistent with fatigue. This Febi stub axle had about five rallies on it before it failed.
Here's a second example from Fiorelli's car at Mendocino 2013 next to mine. They both show the same fatigue failure mode.
It's a also a Febi, but with only two rallies on it before it failed, causing this damage to Eddie's VW: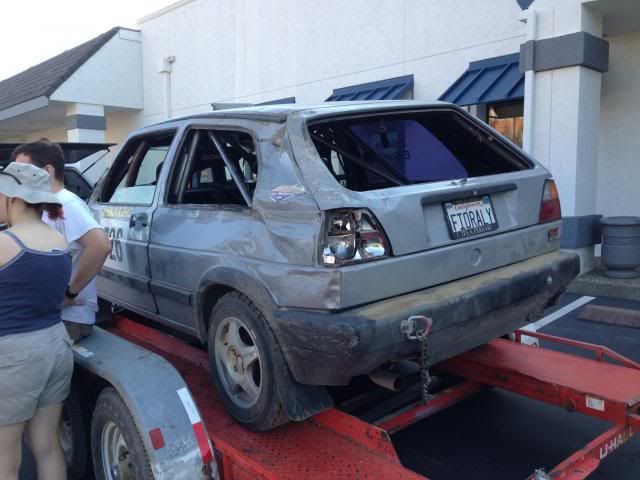 Having established that these failures are not flukes, there is a need for a solution. There's a wealth of information in this thread:
http://www.rallyanarchy.com/phorum/read.php?5,77312,page=1
especially the post by danster that points out the VW Polo has a larger thickness stub axle that will bolt directly to the mk2 rear beam.
The Polo stub axle is much thicker than the mk2 stub axle (28mm vs. 17mm for the mk2 at its thinnest section where it bends), and also has the advantage of using a nice big sealed bearing. The design is actually quite similar to the mk4 5-lug stub axles. The bad news is these cars were never sold in the U.S., but the good news is parts are available in Europe or Mexico. Not all Polos or Ibizas had disc brakes so beware. The drum brake parts will not work (unless you retain drum brakes).
Here's a list of part numbers you need for the conversion (Note, there are typos in the various threads on this topic out on the internet):
1 - right stub axle 6n0501118
1 - left stub axle 6n0501117
2 - hubs with nut and cap 6x0598477
2 - brake discs 6n0615601a
4 - stub axle to brake carrier bolts n90740301
You can reuse the following mk2 parts:
Brake Calipers
Brake Pads
Brake Caliper Carriers
Brake dust shields
Stub Axle to Rear Beam Bolts
You can't reuse the stub axle to brake caliper carrier bolts because the mk2 bolts will be too short. The Polo stub axles are thicker in this location. I bought a box of M10 x 1.25 x 30mm bolts from McMaster-Carr instead of buying the VW ones.
I found a dealer in Mexico City willing to sell me everything new from VW and ship it to the U.S. It would have cost me over $1,500. Instead I purchased a complete used rear end off of eBay.co.uk. It cost me 100GBP + an extra 100GBP in shipping. Total was about $325. This got me the stub axles and hubs. They were a lot rustier than the parts you get from junkyards in SoCal, but after a couple of hours with an angle grinder and a wire wheel they cleaned up fine.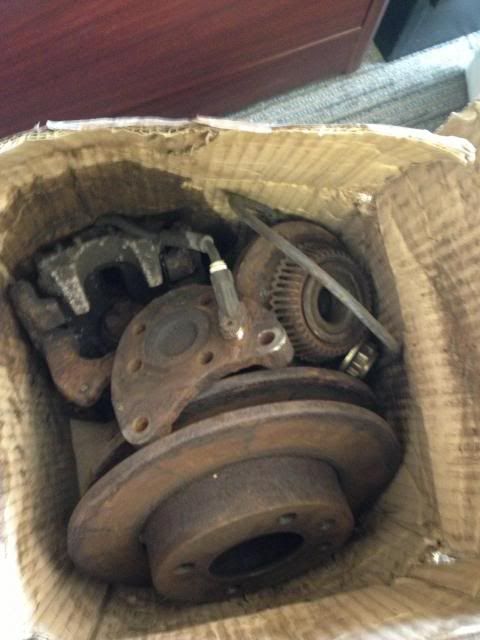 I then purchased new brake discs, stub axle nuts (N90654501) and dust caps (1J0501249C) from the VW dealer in Mexico. This cost me $250 shipped to the US. So the complete cost for everything was under $600. I bet it could be done for cheaper if you can find the right vendors. However, I think it's totally worth it at that price for the peace of mind that your wheel will not fall off...
Oh, you also need the little screw that holds the brake disc to the hub. It's the same as the one used in the front discs in the Corrado, so I had a couple extra laying around anyway. I also installed studs, but obviously that's optional.
I finished Prescott this weekend with all four wheels attached to the car. Success!