So after some prodding I have decided to finally post a build log here so that I might learn something now and others might in the future. I didn't feel this was necessary when the car was just a rallyx beater but now that we are taking the big steps to a full stage build, the effort will be worth it.
So what has gone on up to this point?
I have a much more detailed build log of the progress up to this point over at:
http://forums.dirtydrifters.com/viewtopic.php?f=10&t=12
It's a bit chopped up as we changed websites awhile ago and the thread was copied from the old site.
The short of it is that the car was a 1981 Volvo 242 B21F with a ipd VX cam. Shit Brown no dash no interior. Purchased in April of '06 for $300.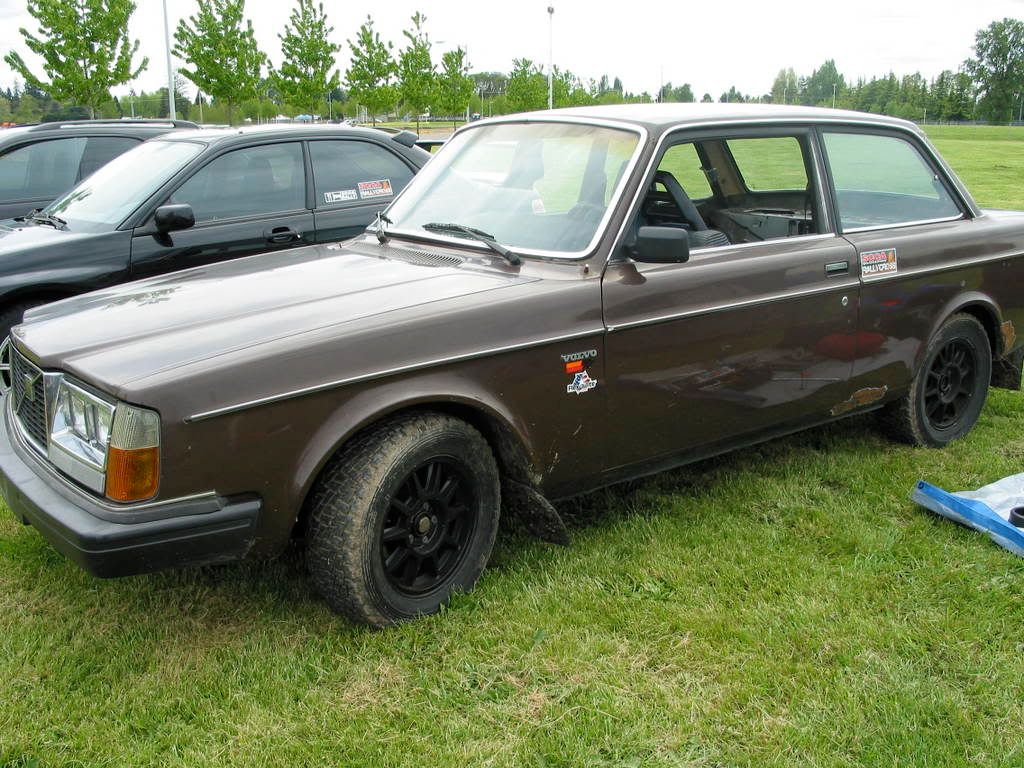 An older pic after I swapped to the newer bumpers and euro turns signal lenses.
Some of the other relevant things done since purchase include:
-Deleted mechanical, clutch type fan, replaced with e-fan with adj thermostat
-wheel/axle bearings all the way around
-Welded 4.27 rear, up from stock, open 3.41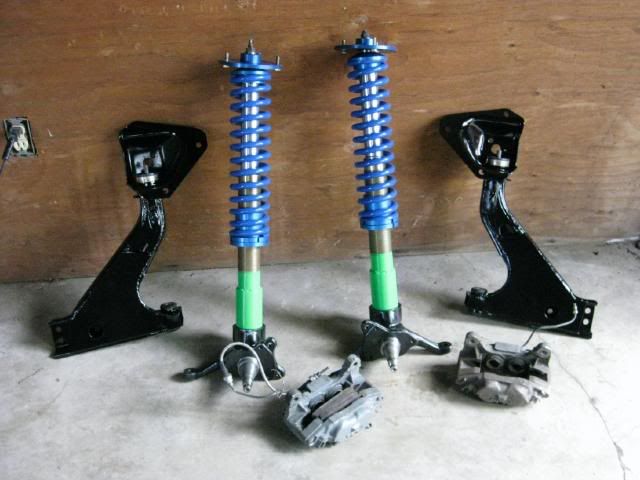 -JVAB Group A inverted Bilstein coilovers w/ 350lb springs
-Boxed lower control arms
-Mazda GenII Rx7 Turbo II calipers -New ball joints
-Volvo 740T 11.25" vented rotors
-Poly front control arm bushings
-Braided SS brake lines front and rear
-Replaced e-brake cables and pads
- Gathered 10 15" Volvo Sirius wheels
-Installed dash and cluster w/ tach, glove box replaced with 3/8" hd plastic w/ bracing behind it to mount maplight and rally computer
-Removal of sound insulation, ~ 40 lbs
-treatment of surface rust, prep and paint interior
-Relocated battery to passenger side, rear
-OMP WRC steering wheel and adapter hub
-Converted front end to flat hood w/ single rounds, hella H4s 90 low 120 high
-Updated to newer, lighter plastic bumpers
- hood pins
Also started working on getting together all of the needed safety equipment. Including a nice set of Cobra Imola S seats that Barrett at All Wheels Driven hooked me up with. Unfortunately one of these met its demise when the FX-16 went up in flames at Idaho.
Other safety items on hand:
-2 G-force 5 point, cam lock, harnesses
-Terraphone pro intercom system (back up)/ Peltor 120 intercom
-2 Safety triangles, 1 more needed
- 25' emergency tow rope
- 18" gooseneck map light
- Alfa Pro rally computer
Some other bits that have been sourced
-B23f donor motor and accessories
-Borg Warner T5 WC, tag number 1352-169, form a 86.5-89 Mustang 5.0. Rated to 265 lb/ft of torque with an input shaft length of 7.18, diameter of 0.668 in. The input shaft length is of particular importance for use w/ the redblock.
Gearing:
1st 3.35, 2nd 1.93, 3rd 1.29, 4th 1.00, 5th 0.68, R 3.15
This is in comparison to the m46 garbage truck ratios of:
1st 4.03, 2nd 2.16, 3rd 1.37, 4th 1.00, 5th 0.79, R 3.68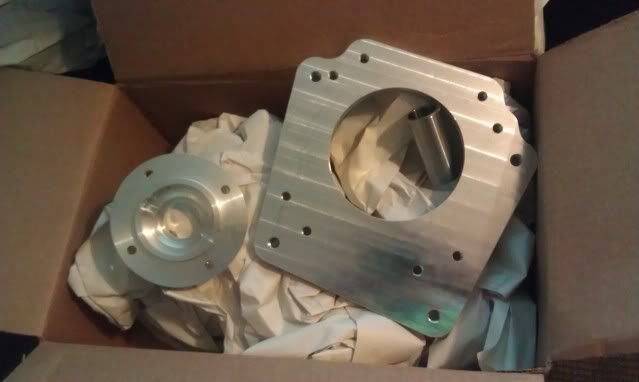 -Avalanche Performance adapter plate
-Steeda Tri-ax shifter
-JV is also providing one of his 15 lb flywheels, clutch disc, and pressure plate.
Havin a blast
So I think this brings us up to the major stuff that we have just gotten into. I'll make that my next post.
---
Zap zap my ass...
Edited 2 time(s). Last edit at 02/20/2012 11:11PM by slidewayswrx.